acrylic on hemp canvas, 101.5/85.5 cm – (2021)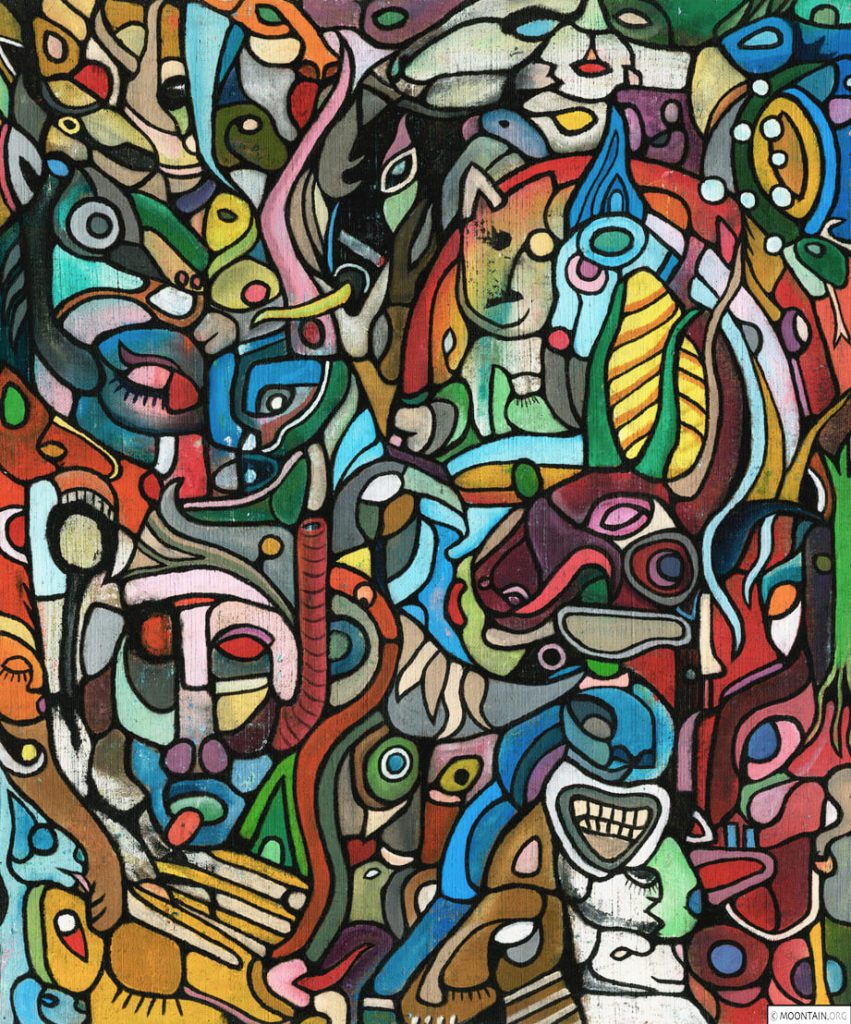 Remember the ones you were, to re-member the one you are *
The anamnesis is a concept that is particularly close to my heart in its various variations. It is mainly about the principle of reminiscence.
It's all about remembering our previous incarnations, in whatever form, enlightening our awareness of who we are. Considering that we are literally composed of atoms that were and will be "every-anything" it is therefore a state of being that offers a perspective and a better understanding of the links between the various events of life.
As usual, I do not plan anything that appears in the canvas and it is by observing it that I have come to this interpretation. Of course once again it is a large number of entities intertwined with bodies & spirits (plant, tiger, bird, magic horse etc).
Moreover, the character with a human figure at the bottom left challenged me, he seems to have a snorkel (red) as if ready to dive deep into Self. We can see in front of his open mouth that he is also about to swallow a red pill, the one supposed to translate the will to learn a truth able of changing his existence. The second element that attracts my attention is this golden chrysalis at the top right, its obvious symbolism, a promise of transformation, in the secret of this mysterious cocoon.
And many other things, everyone is free to find their way around or not.
---
Souviens-toi de ceux que tu étais afin de te rappeler de qui tu es *
L'anamnèse est une notion qui me tient particulièrement à cœur dans ses diverses déclinaisons. Il s'agit principalement du principe de réminiscence.
Il s'agit là de savoir faire mémoire de nos précédentes incarnations, de quelques formes que ce soit, ceci éclairant notre conscience de celui que nous sommes. Considérant que nous sommes littéralement composés d'atomes qui furent et qui seront "tout" c'est donc un état d'être qui offre un recul et une meilleure compréhension des liens entre les divers événements de vie.
Comme à l'accoutumée, je ne planifie rien de ce qui apparaît dans la toile et c'est en observant celle-ci que j'en suis venu à cette interprétation. Bien sûr une fois encore il s'agit d'un grand nombre d'entités entrelacées de corps et d'esprits (plante, tigre, oiseau, cheval magique etc).
Du reste, le personnage à figure humaine en bas à gauche m'a interpellé, il semble avoir un tuba (rouge) comme prêt à plonger en profondeur en Soi. On peut voir devant sa bouche ouverte qu'il s'apprête aussi à gober une pilule rouge, celle supposée traduire la volonté d'apprendre une vérité capable de changer son existence. Le second élément qui attire mon attention est cette chrysalide dorée en haut à droite, sa symbolique évidente, d'une promesse de transformation, dans le secret de ce cocon mystérieux.
Et encore bien d'autres choses, libre à chacun de s'y retrouver ou non.