SIGNS OF LIFE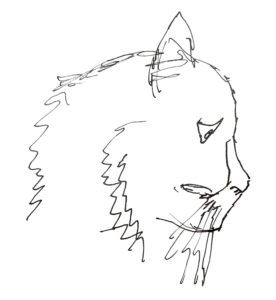 LATEST UPDATE OCT.27th
∞

DEAR YOU

∞
Here is a little space where i will share some signs of life with the ones who might be interested.
As i'm writing, i have stopped to post on my Facebook Page since august 2018.
I felt worn out by this tool & the social medias in general.
But I still create, of course, and i'll be back sooner or later.
I miss the interactions i had with people, so you're welcome
Life's going on*
---
*REMEMBER: There're always some new exhibitions to check, artworks' stories to read, limited fine art prints to get*
NOVEMBER 2019:
A L I F E A L O V E A L I V E
---
OCTOBER 2019:
SUNDAY .27th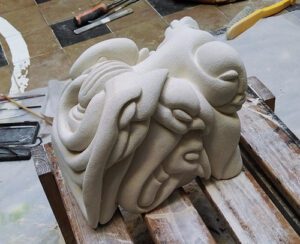 *************************
" DE PROFUNDIS "
Another work in progress, once again it'll be a multifaced limestone sculpture, … i think it's about the path of a thought / primary energy wave, its cycling process through eternity. It is a pleasure to rediscover limestone, and so moving to think it's been made out of former lives, shells, entities … to think thousands years later, it can serve another form of life and become alive, once again …
This is a very special feeling.

---
TUESDAY .15th
Finally able to post an article in the Journal section, it features many many many recent artworks i did not post on social networks, hours, weeks and months of work and lonely dedication. I wish you'll find some nice thoughts, colors and energies into them and yourself while interacting with the artworks, they're now yours to be your friends, hopefully … CLICK HERE to make them breath *

*************************
" SEMENTIS "
As a bonus, here is the latest sculpture i'm working on, a multi-faced limestone piece, with its meaning ready to be discovered as i'm entering the last stage of its process …
On a parallel note, i'm listening all day/night to

DIIV's album Deceiver

, which is a pure gem, music is the only friend that will never let you down, music is the one friend that will never let me down, i'm grateful i know you
I'm looking for a final relief
∞

---
AUGUST 2019:
MONDAY .26th
I just posted a demo of a song freshly born named ANIMA. It is a pretty fragile melody, maybe with some melancholy inside but not that weak, you're welcome to read its story & lyrics HERE

---
SUNDAY .18th
Alive, three steatite / stone sculptures are close to be finish. I've made an intense painting with tons of colorful details consisting in animals melting like in Maya's glyphs. Artworks have been added to the galleries. A couple of exhibitions to come starting next month. I try to enjoy a kind of happiness that you don't fear to lose … it's new to me. Where fragile doesn't mean "ready to break any second " … but simple reveals an even deeper beauty of things and life's mysteries. I'll come back soon with a full blog post featuring all the latest works added throught the last months.

---
MAY 2019:
WEDNESDAY .01st
A very brief sign of life, i'm happy to share the first handful of my
linocuts

right

"

HERE". I still have to add their title & write their stories, but i couldn't wait to put them online. I'm still hidden in my cavern as Plato would say, working on a huge painting, i guess it'll ask me the whole year to finish it, and will describe all these months of life spent apart from the "normaLife" … and as the Spring (and warmth) is back, i was able to start two new stone sculptures. I also play the guitar "a lot" and just work hard on keeping this balance alive and in love. Hopefully, it will lead somewhere, meet someone's heart & ignite a powerfuLight*
---
JANUARY 2019:
TUESDAY .29th
I've added a couple of new artworks in the so called section as well as some new fine art prints into the store. I'm planning to add some more (both new works & prints) in the next couple of weeks as i've been able to work on their hd scans at the atelier.
So … be curious and go find them ( I also continue to complete the artworks' background story along their picture in the galleries )
In the meantime i've made some new linocuts as i'm still liking this medium.
As a bonus here is the latest rough demo i recorded … "

TOTEMIC

"
*************************
SUNDAY .20th
Every year i try to invest myself into a new medium as naively as possible.
I never had the opportunity to work on linocut. But i've accidentally discovered a very old lil box belonging to my mother when she was a child. A minimalist kit they used to give to children in the fifties.
Charming and … obviously a sign i should give it a try. Which is what i'm doing this month …
So here is a rough picture of my very first three artworks experiments with it :

Since I'm enjoying it i believe i will continue the adventure, as the next one is already in process.
---
DECEMBER 2018:
TUESDAY .18th
Creating, is one of the main purposes of the existence.
Through a thought, an artwork, no matter the medium, to act is key.

I'm literally dying if i don't answer the creative call but it doesn't mean that doing it would preserve one from dying anyway.
The ups and the downs do their part like in anyone's journey and we find ourself in the middle of it, arms stretched to make it a balanced whole.
This is why it's been a couple of weeks, months, that i'm extremely

alone

, making art, reading, watching old movies, doing what i'm supposed to do on this planet, with no one to see it, except for the "whole" (name it Nature, Universe, God, whoever you want).

The needed dive back into the Source to purify myself from the mistakes i've made recently.
It asks time to remember what we know, but it's very fast to forget what we learned.
Fortunately i've acted before really hurting my health, my mind, my way.
But it's still a work in progress & forever will be*


I'm feeding some turtle doves at my window for many years now …
Several couples have gone by & i identify them thanks to lil details …
The amusing thing ? There is always one of the two who is more adventurous, this is the one i can interact directly with, the one who will entertain a closer relationship with me.
All in all, it's a daily presence for me, i cherish it. But today i just discover one of my beloved friends … dead.
I'll offer her/him a respectful ceremony*
---
∞

TO BE CONTINUED ∞