SIGNS OF LIFE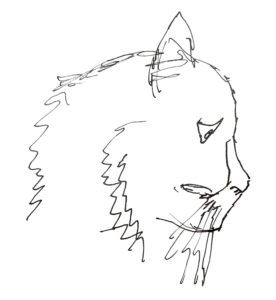 LATEST UPDATE JUN.16.2021
∞

DEAR YOU

∞
Here is a little space where i will share some signs of life with the ones who might be interested.
As i'm writing, i have stopped to post on my Facebook Page since august 2018.
I felt worn out by this tool & the social medias in general.
The interactions i had with people were nice & thoughtful
So you're welcome here to create new ones
Life's going on*
---
*REMEMBER: There're always some new exhibitions to check, artworks' stories to read, limited fine art prints to get*
To discover the 2019 artworks CLICK HERE
∞
JUNE 2021:
WED .16th

Continuing the creation of new burlaps, too happy to find back this way of expression. Stories reappear, from out of time Knowledge. It gives a breather from all the drama occurring in this world.
For years i thought it was important to learn and know things, facts, so i could discuss with all kind of people, maybe help some to be conscious of the consequences of their likes and dislikes, habits and fears etc … But i'm starting to see how it infuses sadness into me.
Even when you're careful, it can overflow and something you learnt to assist others can just drown yourself. I need to stop that or i'll lose the last drops of happiness this society allows.
I thought we were all in charge of the destiny of the world, responsible for it. But we can't be responsible for others' choices. Great Lesson.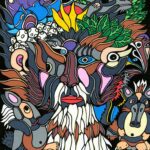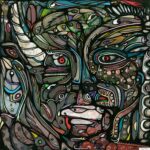 Sidenote: i've added two artworks in the galleries Nascentia and Summa, you can click on the images to see their story and details.
Take good care of your Happiness *
---
APRIL 2021:
FRIDAY .2nd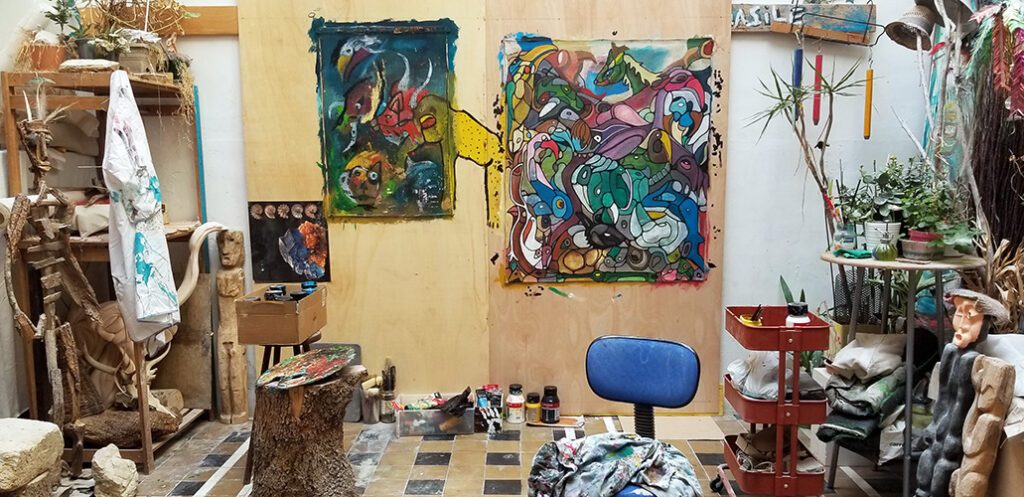 Years ago, after a long hiatus from painting, i found some rough burlap and started to paint again, without any idea of what it would create, in fact i avoided to think of it. I'd rather let the fingers run and the burlap offered some kind of a wild ride, real freedom, i felt like i finally found my self, the Re-Member series was born. I stopped it in 2013, and did not go back to it until now. Last march i've installed a new spot on the wall so i can hang more canvases to paint, and i felt like i should go back to these, because once again i grew tired of the classical canvases. Glad to work of hemp canvas & feel free again from the polished details, with more spontaneous moves & colours.
---
FEBRUARY 2021:
MONDAY .1st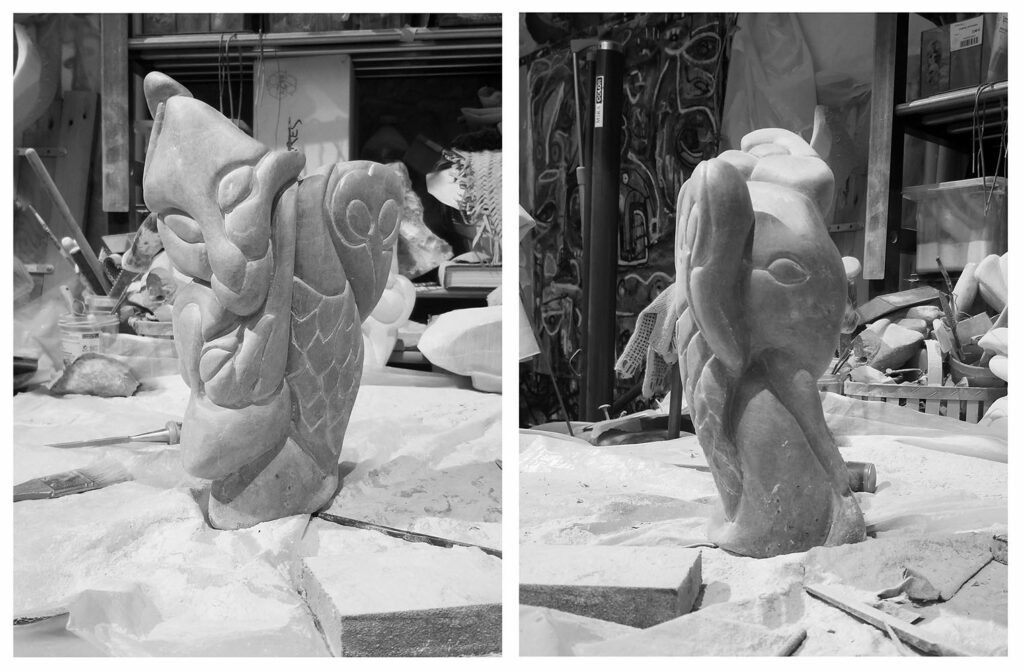 A new year doesn't necessarily imply huge changes, but rather the continuity of a natural evolution. The need for spectacular dates to be an alibi for radical changes could be pertinent for some though. But if you feel a need to change something, do not wait for a calendar or something exterior, to dictate when you should do it.
One thing did not change, the world wide situation. So it's all about going through it and preserving what matters the most for your self, so you can … be your self. To me, it's creating and i've been lucky enough to just do that, with no perspective other than being in the moment (or out of it). It sounds consensual but like every important mantras, the simpliest are not always the easiest to achieve.
Here is the sculpture in progress, it'll feature the likes of a deer, elephant, owl, leprechaun (maybe). I still have numerous sculptures to finish but as i enjoy the process of revealing the entities, the urgency to make it a finished artwork has less appeal to me. Until i really have to, when the world will breathe again.
---
---
DECEMBER 2020:
MONDAY .21st

∞
A quick update to invite you to check the latest works added to the galleries
In the meantime, i'm working on two new drawings and sculptures.
Still no exhibitions planned due to the Covid-19
But the flame of creativity doesn't depend on artshows
It's a force as natural & vital as a breathe*
---
NOVEMBER 2020:
MONDAY .23th

∞
It was a rare opportunity to write about what i do, how i do it and why i do it.
You're invited to read it, it looks great.

∞
The last couple of weeks have been mentally draining because i decided to go out of my comfort zone without knowing where to go.
I tried different things to make my process evolve without real success for now.
It doesn't mean i will give up, but i better not reject what i did prior to the need of a change.
---
OCTOBER 2020:
FRIDAY .09th

∞
FYI

– i have a "

SCULPTURES

" page added to the website where i'll compile these artworks, there's a first series online made out of limestone (pierre de Nogent). The others will come in due time as well as videos. I encourage you to give it a look, these pieces are presented in diaporamas so each entities has a chance to be revealed as well as their stories or fantasized myths.
∞
On the left, is a preview of another sculpture in progress, more figurative but still (on the other sides) animated by abstract movements.
∞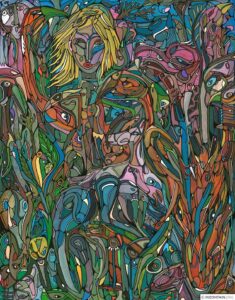 PACHAMAMA (2020)
This painting was mainly created during the french lockdown. Maybe it explains why it's so over crowded, you can click the image to read about its Source and meaning.
Somehow, this artwork made me think about the pertinence of my expression, adding details into details, showing how there's all interconnected, collaborative, as a methaphor showing what should be our priorities, a new level of consciousness. I've done that for years now. Maybe i've come to a place where i'd need more simplicity, knowing that people in this time, before diving into the details, may need to learn how to swim first. I'm looking to create new artworks with this evolved approach.
---
SEPTEMBER 2020:
MONDAY .07th

These are pictures from a couple of angles of a sculpture in progress, (sponge stone, color "olive")
In my mind it was looking like a sort of abstract kangaroo, but it seems like a horse on the other sides.
On the side you can't see, as i'm writing, it also features a tiger, an elephant and an abstract goat.
But it can (and will) change, for sure, as a story around it will appear & make sense.
I'm on it for +two weeks now and i guess there's a couple more ahead.
Sidenote:
I was thinking of this paradoxal situation lately, everyone is looking for love, peace and well-being, some concerned with the state of our Earth, the fauna & flora, some others delibetarely ignoring the signs of sufferings to pursue their own egotistical goals.
But recently both sides seem to have the same speech, claiming to "save the planet", some with sincere (but naïve) aspirations and the others with cynical capitalist desires (the well known "greenwashing").
In the end, i feel like those two camps are lying, the reality being, the reason of their actions is not to save the planet, but to save their own existence or way of life. Nobody would be ready to disappear if it could guarantee the rescue of the whole living world.
---
JULY 2020:
TUESDAY .28th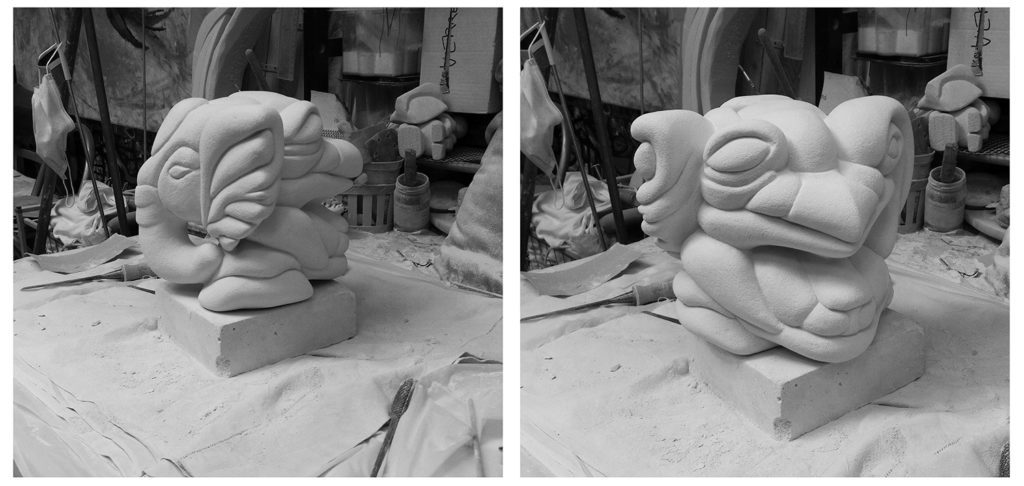 This is the latest sculpture in progress and almost over ( in "pierre de Nogent" ) .. It features multiple entities. As i never decide what the sculpture will be i just tried to observe what would like to appear and it ended with a combination of an elephant, a tiger, a bird and a bat (on the other side, not shown on the pictures). I interprete it as a totemic stone, different Nature's guardians of Knowledge, mixing their respective insights about the Living World. Hopefully it happens in the "real life" and animals become objective allies to overcome the disastrous human species …
∞
Sidenote:
Change seems to be both a sudden and slow process … Only the small daily changes would feed the bigger ones of the future. It is not something easy to accept because some urgencies ask for actions right now. But real change also implies a deeper epiphany so it becomes effective in the long run.
---
JUNE 2020:
SATURDAY .27th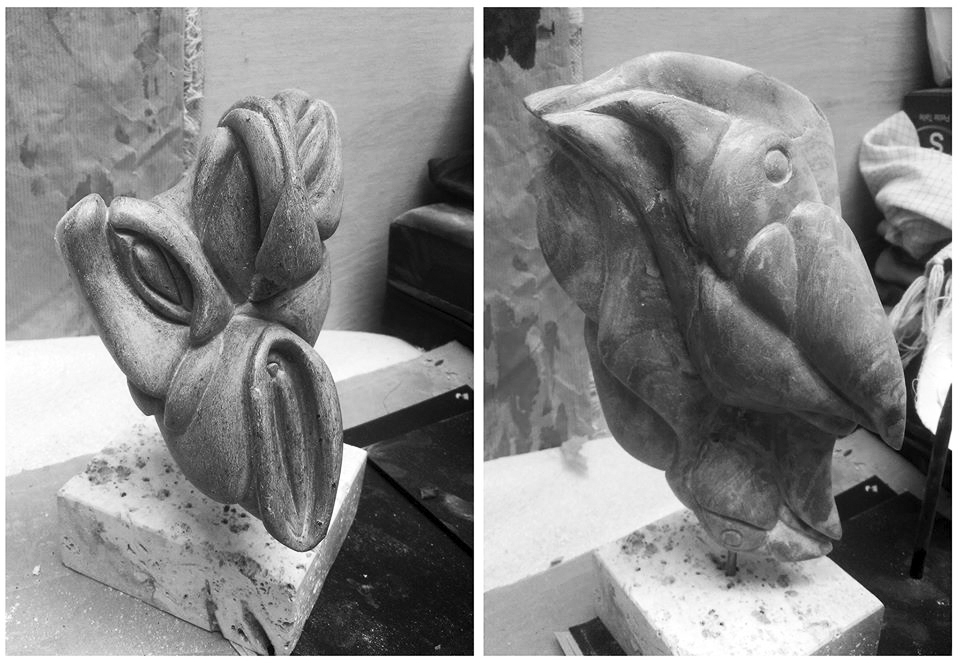 ∞
Here are two sculptures in progress (hard soapstone)
They are almost done and ready for the final steps (polishing etc…)
A tortuous "birth face" ( so to speak ) having a hard time to enjoy pleasure.
And a two-sided bird, going both ways (up&down) symbolizing the Circle of Life process.
∞
Sidenote:
Meanwhile, i can only observe how crazy the world becomes and it's getting worse by the day. Cynicals don't even try to hide their misbehaviour anymore. Mother Nature continues to hurt to the point she can't take it anymore and will show us the exit door (hopefully not too late so other species can write the next chapter of Life). I thought the 21st century would be the era of somekind of "HomoSpiritus", but this version of our higher self seems to be born-dead before even making its first step … Next decades will be very hard for all sensitive beings, let's wish (and act) these are the last waves of storms before the calm*

---
MAY 2020:
THURSDAY .07th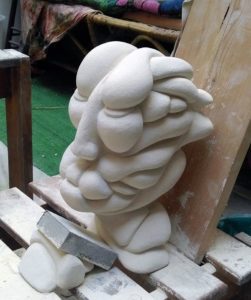 ∞
This is a new sculpture in " pierre de Nogent " …
Almost finished and still untitled.
It was a little challenging to work on its fluid linees but worth it.
I can't wait to discover its meaning & the story it will teach me.
Sidenote:
observing the world claiming to be different while pretty much keeping the same system in place is a bittersweet feeling.
In the meantime as the blabla goes on, Nature knows no real break from humans' activities.

---
APRIL 2020:
MONDAY .27th

HERE ARE TWO PAINTINGS IN PROGRESS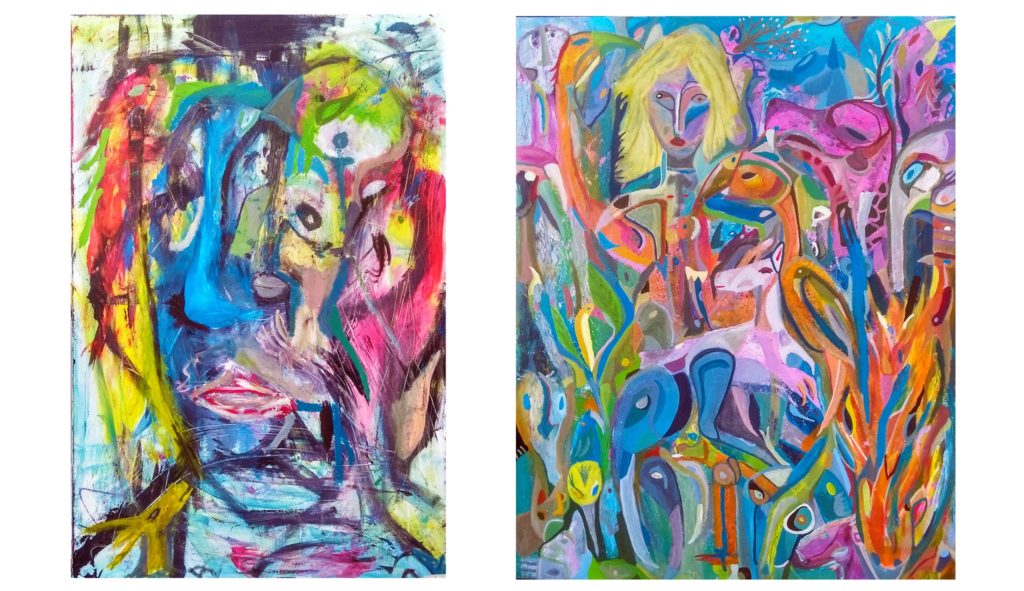 These are two of the paintings i've been working on lately, both are pretty big ( +150 cm height )
 The one of the left is at its early stage and i feel i'll continue to ride the raw side of it. For once it might not be an over detailed one, still, several entities and "faces in the faces" are set to appear, already a bunch of them are starting to show up.
 The one on the right is more advanced, approaching the next step where i will combine it with black lines and some final touches of colour here and there. It'll be like an imaginary jungle, animals, branches, even a big giraffe's head (on the bottom right)
---
SATURDAY .11th
" FEATHERS ( LOST ) "
… is a place where i put rough demos, early versions of some "new-lost" materials. ( more songs HERE ) … It features a bunch of short piano sentences, mainly improvised, reflecting the mood of the instant.
---
MARCH 2020:
FRIDAY .27th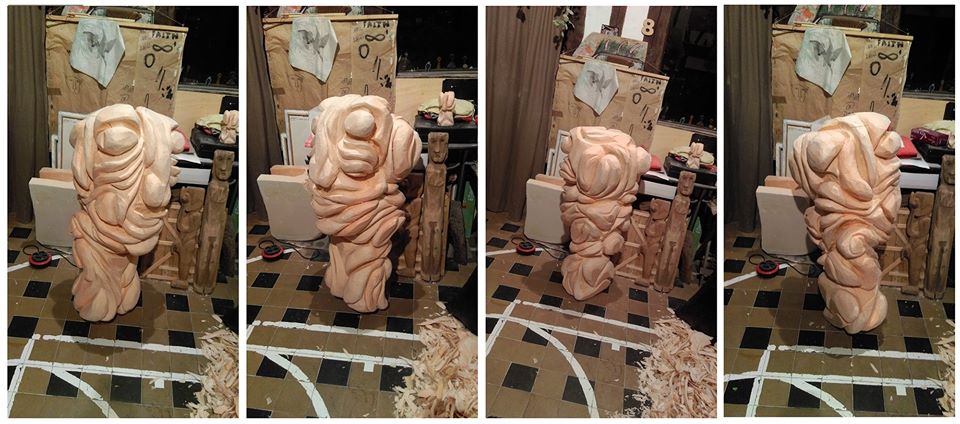 ∞
" POLYMORPHAE "
This is a work in progress, already many hours spent on it, but much more ahead. For now i mainly work with a cutter (the material is extruded polystyrene, so it's pretty solid), which explain the rough / raw aspect of it at this stage.

It's a weird period since we're confined all over the globe (even if it doesn't change much from my usual life) … But it can be a welcome opportunity for all of us to … redefine our way of living, to make tomorrow different from yesterday, for the better. COURAGE & WISDOM
---
THURSDAY .12th
READ MY INTERVIEW -> I had the opportunity to talk in depth about my process, inspiration, the art world with KD Outsider Art during a very interesting interview, i hope you'll enjoy it.

---
FEBRUARY 2020:
THURSDAY .27th

*************************
PREVIEW of " AURORA "
First glimpse at this sculpture, the biggest stone i've worked on so far (approx. x2 bigger than "sementis"), still far from being finished, it's as challenging as it's pleasing. Plus, not that i'm a "bigger is better" kind of person, but it only feels right to not be stuck with tiny pieces if i wanna exhibit in "more serious" venues.
---
SATURDAY .22th
" SEMENTIS "
A new sculpture finally finished, made of Pierre de Nogent (special kind of limestone). The journey of a primary Seed (a tiny one's sculpted & hidden near the trunk of an elephant you can guess from a certain angle). It's full of strength, memory, thanks to the elephant) ready to go through primitive deities to be shared with other living beings.
*************************
WEDNESDAY .19th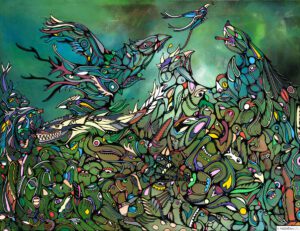 " FLOTS DES ÂMES " (Floods of Souls)
This is my latest painting, an echo to "Le Porteur d'Âmes"
They both work as a duet. There is a lot to observe into it if you're willing to. It's not just a chaotic accumulation of frames but rather a story of the myriad of entities finding their way to get to their next world or incarnation.
It's a crowded imaginary place where you go through different steps and challenges to reach your way and elevate.

---
JANUARY 2020:
SATURDAY .18th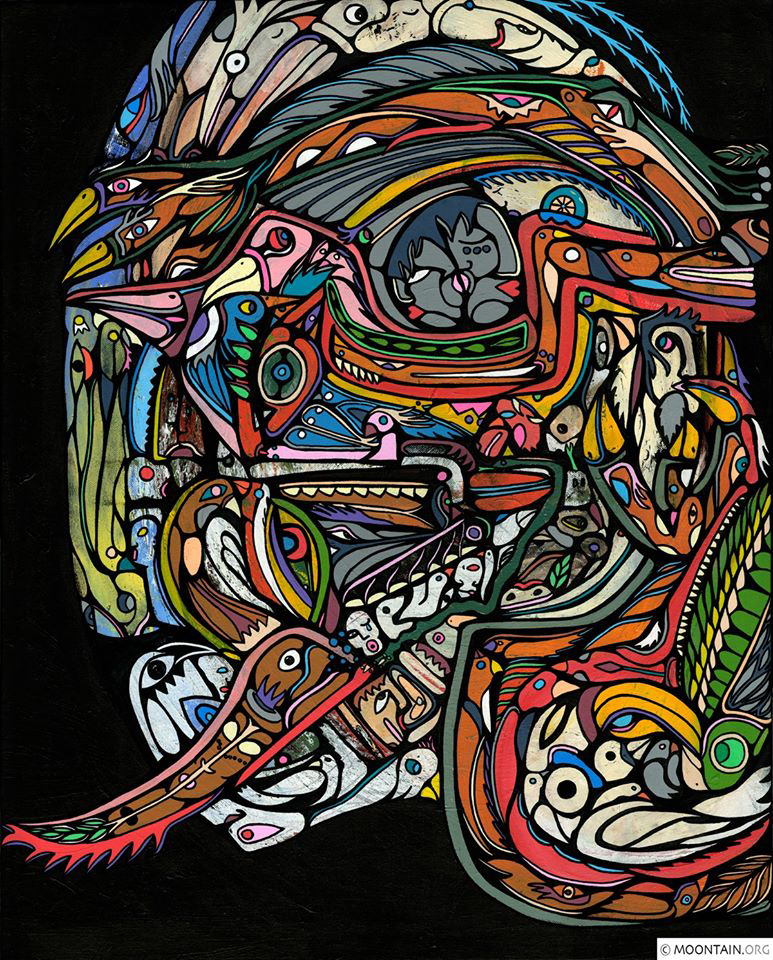 ∞
" L'AMANT DES NUAGES " (The Clouds Lover)
Here is a new painting, you can click on the image to learn more about it … The french title is a "phonetic word play" with "L'âme en des nuages" (the soul into clouds). Once again, it is about this humbling thought of how much details are the ones allowing the whole to exist and enjoy a journey itself.
---

∞
Detail from the upcoming painting "

FLOTS DES ÂMES

" (Floods of Souls) …
This imaginary antilope is gone since the picture was taken, so i wanted to give her a chance to exist anyway. This painting is a lil bigger than the ones i usually do and will feature so ethereal areas, which is new to me, so the accumulated forms / entities can have a space to evolve in.

*************************
---
Painting one of my limestone sculpture with watercolors, using watercolors for the very first time (picture to come), listening to

Pedro The Lion

. Feeling no more comfortable with loneliness, and not more comfortable with the way the world goes on (i'd rather say "off") … Deciding that i should start to sell original artworks, but after so many years claiming i won't, Karma is making me pay the price, but i have the answer, which is Patience and Dedication.
---
NOVEMBER 2019:
A L O V E R A L I V E A L I F E
---
OCTOBER 2019:
SUNDAY .27th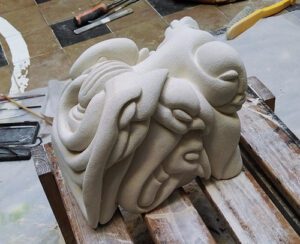 *************************
" DE PROFUNDIS "
Another work in progress, once again it'll be a multifaced limestone sculpture, … i think it's about the path of a thought / primary energy wave, its cycling process through eternity. It is a pleasure to rediscover limestone, and so moving to think it's been made out of former lives, shells, entities … to think thousands years later, it can serve another form of life and become alive, once again …
This is a very special feeling.

---
TUESDAY .15th
Finally able to post an article in the Journal section, it features many many many recent artworks i did not post on social networks, hours, weeks and months of work and lonely dedication. I wish you'll find some nice thoughts, colors and energies into them and yourself while interacting with the artworks, they're now yours to be your friends, hopefully … CLICK HERE to make them breath *

*************************
" SEMENTIS "
As a bonus, here is the latest sculpture i'm working on, a multi-faced limestone piece, with its meaning ready to be discovered as i'm entering the last stage of its process …
On a parallel note, i'm listening all day/night to

DIIV's album Deceiver

, which is a pure gem, music is the only friend that will never let you down, music is the one friend that will never let me down, i'm grateful i know you
I'm looking for a final relief
∞

---
AUGUST 2019:
MONDAY .26th
I just posted a demo of a song freshly born named ANIMA. It is a pretty fragile melody, maybe with some melancholy inside but not that weak, you're welcome to read its story & lyrics HERE

---
SUNDAY .18th
Alive, three steatite / stone sculptures are close to be finish. I've made an intense painting with tons of colorful details consisting in animals melting like in Maya's glyphs. Artworks have been added to the galleries. A couple of exhibitions to come starting next month. I try to enjoy a kind of happiness that you don't fear to lose … it's new to me. Where fragile doesn't mean "ready to break any second " … but simple reveals an even deeper beauty of things and life's mysteries. I'll come back soon with a full blog post featuring all the latest works added throught the last months.

---
MAY 2019:
WEDNESDAY .01st
A very brief sign of life, i'm happy to share the first handful of my
linocuts

right

"

HERE". I still have to add their title & write their stories, but i couldn't wait to put them online. I'm still hidden in my cavern as Plato would say, working on a huge painting, i guess it'll ask me the whole year to finish it, and will describe all these months of life spent apart from the "normaLife" … and as the Spring (and warmth) is back, i was able to start two new stone sculptures. I also play the guitar "a lot" and just work hard on keeping this balance alive and in love. Hopefully, it will lead somewhere, meet someone's heart & ignite a powerfuLight*
---
JANUARY 2019:
TUESDAY .29th
I've added a couple of new artworks in the so called section as well as some new fine art prints into the store. I'm planning to add some more (both new works & prints) in the next couple of weeks as i've been able to work on their hd scans at the atelier.
So … be curious and go find them ( I also continue to complete the artworks' background story along their picture in the galleries )
In the meantime i've made some new linocuts as i'm still liking this medium.
As a bonus here is the latest rough demo i recorded … "

TOTEMIC

"
*************************
SUNDAY .20th
Every year i try to invest myself into a new medium as naively as possible.
I never had the opportunity to work on linocut. But i've accidentally discovered a very old lil box belonging to my mother when she was a child. A minimalist kit they used to give to children in the fifties.
Charming and … obviously a sign i should give it a try. Which is what i'm doing this month …
So here is a rough picture of my very first three artworks experiments with it :

Since I'm enjoying it i believe i will continue the adventure, as the next one is already in process.
---
DECEMBER 2018:
TUESDAY .18th
Creating, is one of the main purposes of the existence.
Through a thought, an artwork, no matter the medium, to act is key.

I'm literally dying if i don't answer the creative call but it doesn't mean that doing it would preserve one from dying anyway.
The ups and the downs do their part like in anyone's journey and we find ourself in the middle of it, arms stretched to make it a balanced whole.
This is why it's been a couple of weeks, months, that i'm extremely

alone

, making art, reading, watching old movies, doing what i'm supposed to do on this planet, with no one to see it, except for the "whole" (name it Nature, Universe, God, whoever you want).

The needed dive back into the Source to purify myself from the mistakes i've made recently.
It asks time to remember what we know, but it's very fast to forget what we learned.
Fortunately i've acted before really hurting my health, my mind, my way.
But it's still a work in progress & forever will be*


I'm feeding some turtle doves at my window for many years now …
Several couples have gone by & i identify them thanks to lil details …
The amusing thing ? There is always one of the two who is more adventurous, this is the one i can interact directly with, the one who will entertain a closer relationship with me.
All in all, it's a daily presence for me, i cherish it. But today i just discover one of my beloved friends … dead.
I'll offer her/him a respectful ceremony*
---
∞

TO BE CONTINUED ∞