REMINDER: to see the Painting – Galleries click HERE … to see the Store click HERE
Exhibition, Interview, Press article, Vinyl's artwork . . .

2016 starts well, with a couple of things to share, and i wish it will continue this way but nothing is sure, so let's enjoy the present things for now, such as being interviewed and more …

Thanks for your curiosity & support *
---
Interview on Arts Artists Artwork:
I had the chance to talk about what i do on this great site #AAA, representing a large artistic community and one of the biggest page on facebook. Here are the list of questions i answer to:
You can click to read the interview HERE
---
An album artwork for a vinyl sleeve on an electro label:
Months ago i was contacted by the dear Andy Book, a talented artist who owns a music label Kreattones.
He asked me if there was something we could to for his next release from japanese sound producer KENSUKE FUKUSHIMA ( featuring remix by Her Joy and Andy )
I was happy about it, since this is not the kind of music i usually listen to, it was also an opportunity to discover something new.
In the end it was obvious the artwork we needed to choose was from the collaborative. sessions i had with Johanne Joe. The artwork is a detail from one of our three common paintings, and is named KISSEND *
You can see a preview of the result in this image: ( click to ORDER )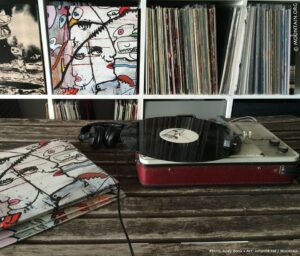 ---
Article in the french local press :
I had the opportunity to get an article ( CLICK HERE ) after a +two hours meeting with a local journalist ( a cool dude, with a great background, we talked about movies, music, and some arts too ), it was in a pub so at times it got a little complicated to really share what mattered to me, anyway, in this kind of situation, you have to accept the result and the perception the journalist gets from you, even if you don't always agree, this is still interesting to learn how it works, so (hopefully) the next time, you get better at saying the important things, since this is a short article, you need to really focus on the essential ( lesson learned ).

---
French collective exhibition in february 2016:
I've been working hard these last couple of months to have a painting ready for a collective show.
Here are the infos + snapshot / detail from the artwork in process, it's named EIDOPATH ( click to support it )
From February.13 to February.28 • SALON DES INDEPENDANTS NORMANDS • France
(-> La Halle aux Toiles – ROUEN – Ouvert tous les jours de 14h30 à 19h – Gratuit )

---
 Other news:

---
Don't forget to share with others, if you know someone interested or are interested in helping me to get opportunities, zines articles, etc please do not hesitate, it would be really nice.  contact@moontain.org