mixed media on canvas – 116/89 cm – 35″/45.6″ – (2017)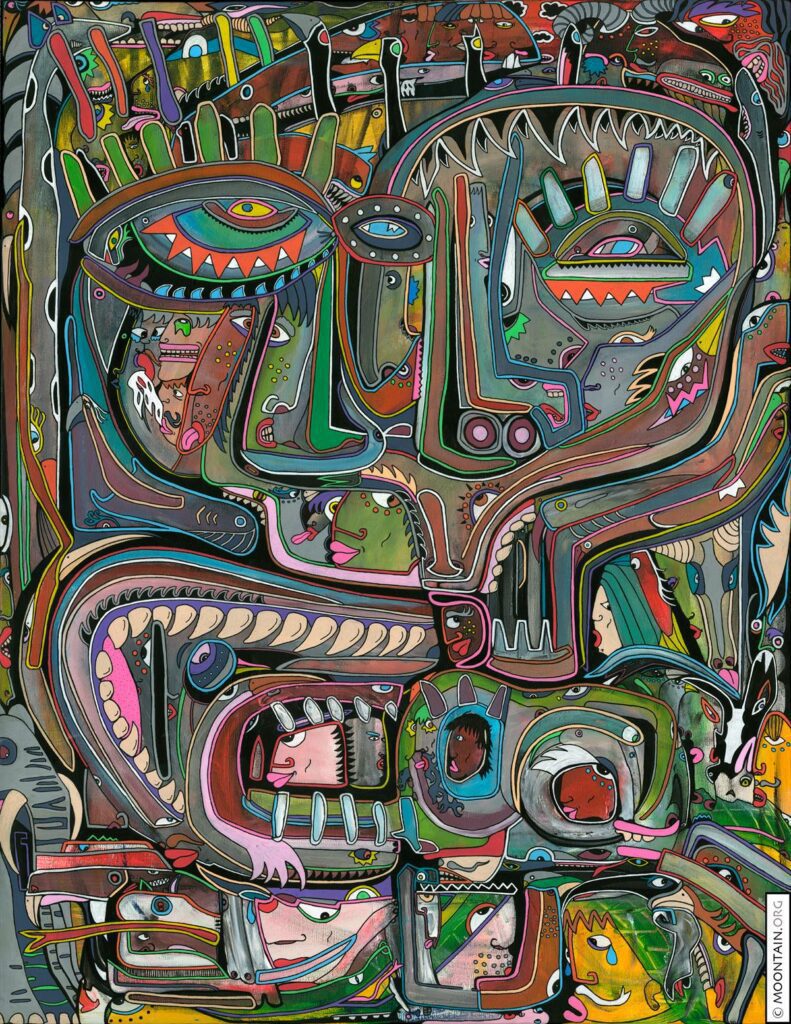 In order to change what you see … Change the way you look at it *
Its journey started back in 2013 and just ended in march 2017, now its new life begins, with YOU, please enjoy, and tell me what you see, what you feel, what you think, your interactions are life injections, and a gift i cherish. It was a lot of work to have done, because of the many details and its size. A relief to show it to you. I feel a little nervous about it, because i really wish this pairing will find its audience and be enjoyed. Plus it was the very first canvas i built, with my dad, which means a lot, since we only have very few occasions to share something together.
As you see, it took me almost four years to finish it. And i spent approximatively four big working sessions / periods on it. There were mainly related to emotive events, such as the death of family members, and there are many parts of it filled with tears inside of the painting. As well as complicated times when self confidence was hard to be found. But at the same time, it makes its journey even more special. It was not a therapy to paint it, but rather a witness of an evolving time of life. Which is why i finally learned to accept this artwork, just as we accept the person we were, to enable us to become the one we are. Once again, multiple entities are melting to write each others' story. This is what matters to me, as well as taking an extra care in the details & meanings. Nothing is here for nothing. Everything can be interpreted by the imagination. I just wish many of you will enjoy a dive or two to discover what they are supposed to discover. There are some universal figures as well as unknown ones, waiting for your eyes to invent them a story.
So i can't say what i think of it, except i believe it is a real mix of civilizations, from antique myths & legends to modern prophecies, … all making one. Because, i really feel time and space is in the " now " … And we just have to close our eyes and dissect the imaginary molecules, to literally touch, hear, taste, each period of it. In this way, we can travel through all the entities of Life itself. The title is composed of " EIDOS " which echoes an idea, a form, .. plus the word " PATH ". So the whole is supposed to illustrate this intertwined process between the meaning and its incarnations.